English
Welcome to the cave bear Museum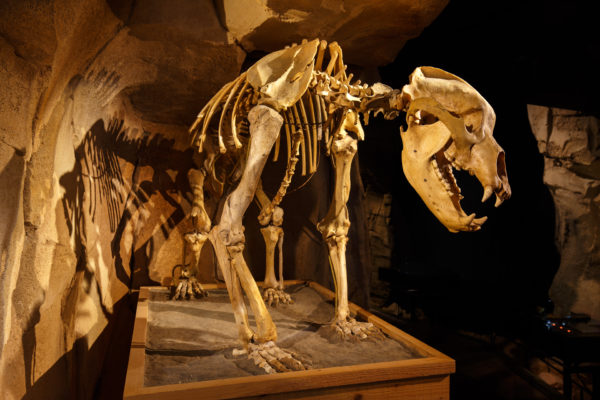 More than 25 000 years ago, in the Granier mountain range, the "Balme à Collomb" cave was home to peculiar prehistoric inhabitants… Ursus spelaeus (cave bears).
The Cave Bear Museum shines a light on this exceptional site and this emblematic animal that occupied this hibernation cave for thousands of years.
The museum lets you travel back in time and follow in the footsteps (or should that be "pawprints"?) of this prehistoric bear. Interactive tables teach you about the cave bear's physical characteristics and environment. During the visit, you become the scientists who excavated the bears' cave.
A viewing theatre and giant screen showing a 3D film and computer-generated images let you relive an exceptional scientific and human adventure.
Extend your visit by checking out the latest temporary exhibition.
Make the most of the gift shop. Relax in the museum's bar area or enjoy its outdoor facilities (play and picnic areas).
Museum opening hours :
May, June and September: every day from 2 p.m. to 6 p.m.
July and August: every day from 10 a.m. to 12.30 p.m. and from 2 p.m. to 6 p.m.
Only during school holidays from October to April, from Sunday to Friday from 2 p.m. to 6 p.m. Closed on Christmas Day and New Year's Day.
 Rates :
Adults: €6.00
Children from 6 to 16 years old: €4.00
Free for children under 6 years old.
Families (2 adults + 2 children): €18.00
Reduced adult rate: €5.00 (students, disabled people, jobseekers, reduction cards, groups of 15 or more)
Reduced children's rate: €3.00 (disabled people, reduction cards, groups of 15 or more)
 Photos authorised in the museum
 No animals allowed inside the museum
 Disabled parking and toilets
 Getting here :
Cave Bear Museum (Musée de l'ours des cavernes) – Epernay – 73670 Entremont-le-Vieux (France)
By road, the museum is: 1.5 hours from Lyon, 1 hour from Grenoble, and 30 minutes from Chambéry.

From Chambéry: follow signs for the Col du Granier via the D912 to Entremont-le-Vieux
From Grenoble or Voreppe: via the D520, St Laurent du Pont, St Pierre d'Entremont, Entremont-le-Vieux

By train: Chambéry or Grenoble.
By plane: Lyon St Exupéry airport
Free parking
100 metres from the museum, at the entrance to the Camping de l'Ourson. Cross the bridge and turn left. Museum 50 metres down from the dairy cooperative.